6 Tips to Prepare Your Colorado Home for Sale Before Spring
Be steps ahead with these suggestions for Colorado homeowners looking to sell this spring
Finding the "right" time to buy or sell can depend on many individual and unique circumstances surrounding your situation. There could be advantages at any time of the year based on inventory, demand, competition and other factors. However, as the days grow longer and the weather begins to warm, the spring real estate market often sees a surge in activity as a popular time to list. If you're considering selling your home during this spring season, it's essential to prepare your property now to stand out in a competitive market. Below, we've detailed six key tips to consider that can help your home make a lasting impression on potential buyers. Even if you're unsure about the timeline of your upcoming home sale, these tips will help keep your home in its best condition for an upcoming sale, or for you to enjoy!

Seller Tips: The fall is a great time to enhance your home's curb appeal if looking to list in the coming months. This home was sold by The Northrop Group in Parker, Colorado.
1. Enhance Curb Appeal
First impressions matter, and the exterior of your home sets the tone for what potential buyers can expect inside. The exterior photo of your home is often what will be showcased to home buyers who make the decision to want to see more of the home. Boost your curb appeal by giving your front yard a refresh. Trim overgrown bushes, plant colorful flowers, pull weeds, check on your sprinkler system function and apply a fresh coat of paint to your front door. Be on the lookout for other quick and easy fixes such as broken screens on windows which may have been impacted by Colorado weather or normal wear and tear. A welcoming entryway and first impression can entice buyers and make them eager to explore the rest of the property.

2. Freshen Interior Paint
A fresh coat of paint can work wonders in giving your home a clean and updated appearance. Opt for neutral, light colors that can appeal to a broader range of buyers. Neutral tones create a blank canvas that allows potential buyers to envision their own personal style in the space. If you need inspiration, you can view the 2023 paint colors of the year. Walk through your house, especially high traffic areas, and look for dings, nicks or scratches which can be quickly fixed by paint touch-ups to conceal any imperfections on the walls and ceilings. Even if you're not thinking about selling, this is a great yearly habit to get into.
3. Schedule Professional Photography
Taking the time to prepare the exterior of your home for professional photography while grass is green and landscaping is abundant can have a positive impact on your spring sale. Winter in Colorado can begin as soon as Labor Day and run all the way to Memorial Day depending on where your home is located. Scheduling your photography in summer/fall ensures that there will be color and no white outs in your home's photos. You'll showcase your home in its best light, help buyers envision outdoor living spaces and greenery and you'll stand out amongst other homes whose photos will likely show brown grass snow and barren trees. Plus, you can wait to take interior photos until you're ready to list.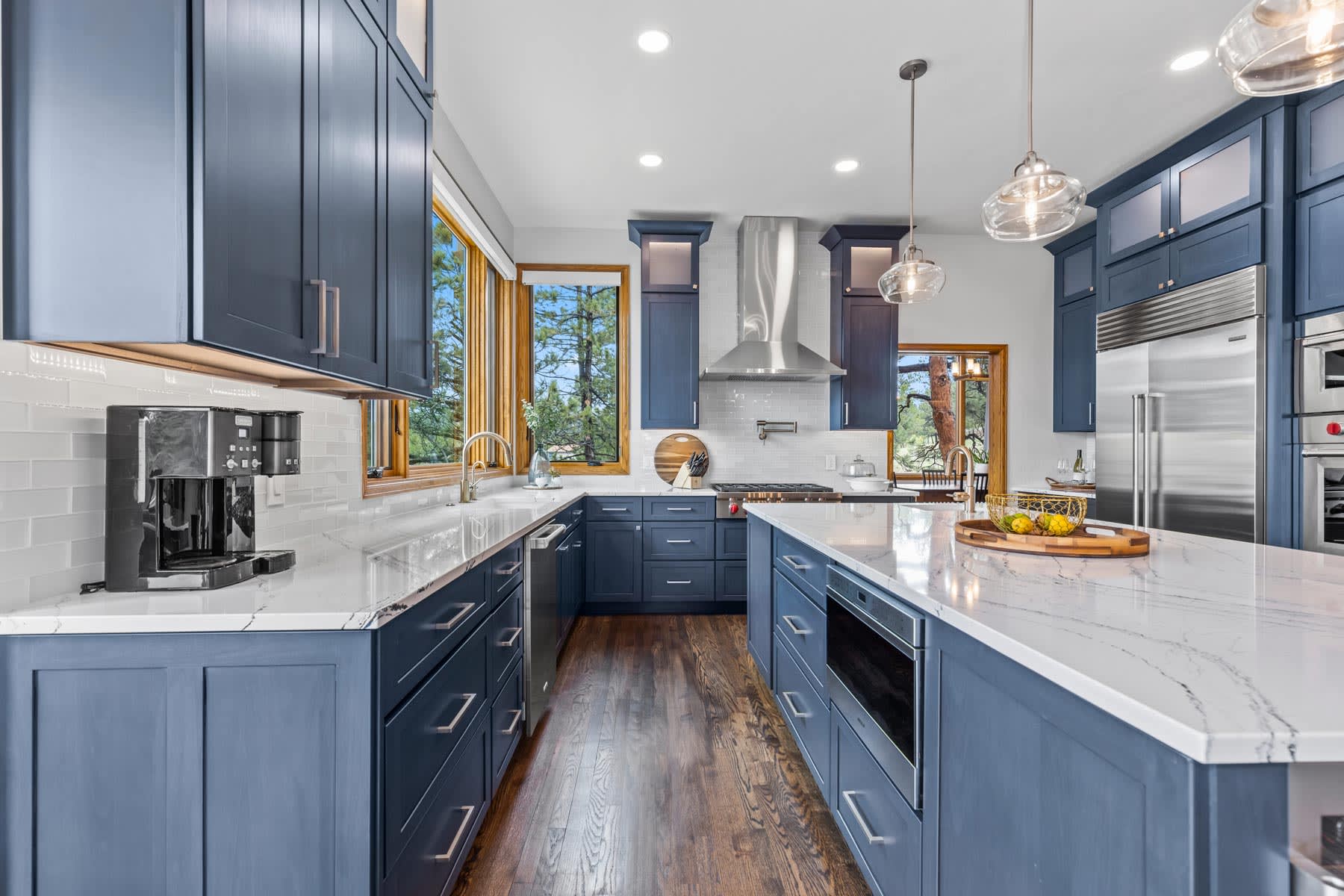 A sleek, modern kitchen is a huge selling point to potential buyers, such as this recently sold Colorado home by The Northrop Group.
4. Modernize Your Kitchen
The kitchen is often considered the heart of the home, and upgrading it can significantly boost your home's appeal to buyers. While you may not want to invest a large amount of money into your kitchen if you're considering moving, kitchen upgrades and renovations consistently rank as one of the top returns on investment for homeowners. You don't need a complete overhaul; even small changes can make a big difference. Consider updating cabinet hardware, replacing outdated light fixtures, and investing in stainless steel appliances. A modern, inviting kitchen can be a major selling point for potential buyers.

5. Update Bathrooms
Just like the kitchen, bathrooms play a crucial role in a buyer's decision-making process—especially the primary bathroom. Simple upgrades such as replacing old faucets, updating mirrors, and installing new shower curtains can give your bathrooms a fresh look. Ensure that all plumbing is in good working condition and address any issues such as leaky faucets or running toilets.

6. Declutter and Depersonalize
One of the most important steps (and the most difficult for some homeowners) in preparing your home for sale is to declutter and depersonalize the space. As you get closer to listing, remove personal items, family photos, and excessive decorations to allow potential buyers to envision themselves living in the home. A clutter-free environment also makes rooms appear more spacious and inviting. Less really is more.

Less is more. This beautiful living space was ready for the market in this Castle Pines home sold by The Northrop Group.
Bonus Tip: Contact us and we'll do a walkthrough of your home with you and look at it from a fresh perspective, highlighting things buyers may be looking for so we can maximize your sale for you.
It's crucial to work with a real estate agent who understands the local market and can help you set the right price for your home. The correct agent can provide valuable insights into current market trends and buyer preferences, ultimately helping you position your property for a successful sale. Our seller services including staging, house cleaning, packing, organization, photography, videography, custom marketing and the power of our network - all to showcase your home's strengths and get you the highest sale possible.
Selling your Colorado home in the spring offers a prime opportunity, but it requires careful preparation to attract buyers and secure a favorable deal. By focusing on getting the right photographs of your home, enhancing curb appeal, updating key areas and creating a clean, neutral interior, you can make your home more appealing to potential buyers. With the right upgrades and a strategic approach, you can increase your chances of a swift and successful sale in the vibrant spring real estate market.
Founding Agent of Compass Denver Jessica Northrop and her Northrop Group team bring together the knowledge of long-established real estate leaders who have an unwavering commitment to their clients, and the edginess of Compass - the #1 Brokerage in Denver, the #1 Brokerage in the United States and a Fortune 500 company. Compass brings innovative marketing strategies and cutting-edge technology to enhance our service to clients. Whether it's buying or selling, the Northrop Group brings a unique and unmatched take on the Denver real estate market.
---
Questions about making a real estate decision? You can search all Colorado homes for sale, learn more about working with The Northrop Group or read testimonials from our clients. Follow Jessica and The Northrop Group on Facebook and Instagram.
Read more from The Northrop Group Real Estate Blog: